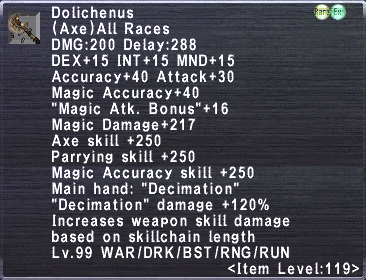 Statistics
Damage Per Second: 41.67
TP Per Hit: 76
Can be stored with a Porter Moogle using Storage Slip 28.
Other Uses
How to Obtain
Ambuscade Rewards
Background Info
Jupiter Dolichenus was a Roman god derived from an oriental one, his cult seeming to be second in popularity only to Mithras. He is depicted with an aegis, a Phrygian headpiece, lightning bolt in one hand, and a double-headed labrys axe in the other.[1]
Community content is available under
CC-BY-SA
unless otherwise noted.