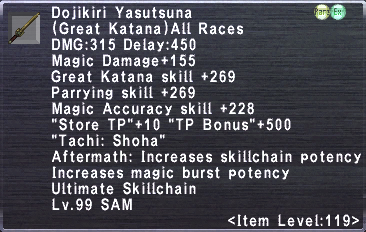 Statistics
Damage Per Second: 42
TP Per Hit: 115
Allows use of the Weapon Skill Tachi: Shoha at 5/5 potency as long as the weapon is equipped, without needing to put any Merit Points into it.
Other Uses
How to Obtain
Cannot be obtained as a random reward from the Gobbie Mystery Box Special Dial and similar sources.
Quest
Mog Bonanza
Community content is available under
CC-BY-SA
unless otherwise noted.