Zone
Level
Drops
Steal
Spawns
Notes
Davoi
71
1
A, L, T(S), Sc
~4,000 HP
??? MP
Batallia Downs (S)
La Vaule (S)

Union Spoils:

1
A, L, T(S), Sc
??? HP
??? MP

A = Aggressive; NA = Non-Aggresive; L = Links; S = Detects by Sight; H = Detects by Sound;
HP = Detects Low HP; M = Detects Magic; Sc = Follows by Scent; T(S) = True-sight; T(H) = True-hearing
JA = Detects job abilities; WS = Detects weaponskills; Z(D) = Asleep in Daytime; Z(N) = Asleep at Nighttime; A(R) = Aggressive to Reive participants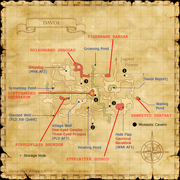 Notes - Davoi:
Spawns every 15 - 30 <5 minutes in the ruined abbey at (H-8). You must go through Monastic Cavern in order to reach the section where he spawns.
Has been seen with an incredibly powerfull Fast Cast upwards of -70% casting time, it cast blizzaga III in under 2 seconds, and several tier-IV nukes in under 1 second. what activates this trait and if it always has it is unknown.
Casts Blizzaga III, Aeroga III, Firaga III, Stonega III, Poisonga II, Stone IV, Water IV, Sleepga. These spells can be very damaging, so a stunner is highly recommended.
Uses Manafont at some point.
Appears to have just above 4000 HP.
Is very resistant to magic; took ~50% magic damage from a modestly geared 85 BLM. Possibly due to Warchief buffing him with Shell II
He has 3 other high tier orcs with him. Got surprised when attempting to solo.
Soloable by Taru 90NIN/45DNC. Killed him and all three links inside the house. Full TP and Steps are recomended for Stuns and Cures.
Soloable by Red Mage and Thief at level 75; Duoable by most Damage Dealer and Healer combinations at level 75. (see testimonials)
Two Curse Wands are guaranteed to drop every time unless everyone already has one in inventory. (If the wand didn't drop check your mog house.)
Will aggro through the door into the room he's in even if it's closed, most likely linking with the rest of the room.
Notes - Campaign:
Community content is available under
CC-BY-SA
unless otherwise noted.