Zone
Level
Drops
Steal
Spawns

Notes

83
-
-

1

A, L, T(S)

A = Aggressive; L = Links; S = Detects by Sight; H = Detects by Sound; HP = Detects Low HP; M = Detects Magic; Sc = Follows by Scent; T(S) = True-sight; T(H) = True-sound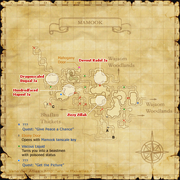 Notes:
Spawns at (I-7).
Approximately 60,000 HP.
Resistant to Stun and Silence, maybe immune.
Can be paralyzed.
Can use Benediction (around 2%).
Frequently casts Cure V and Curaga IV. Occasionally casts Erase, Stoneskin, and Diaga II. Rarely casts Silencega, Paralyga, Holy, and Banishga III.
Seems to gain increased defense as his HP decreases.
Can be defeated by 6 Level 75 characters (axe burn party will work)
Defeating him lowers the Mamool Ja Savages millitary force by 1.