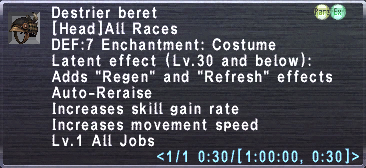 Statistics
Enchantment: Costume
This enchantment bestows an Egg status effect, which turns you into a Chocobo egg that can spin around in place. When that effect is removed, you "hatch" into an adolescent Destrier chocobo (a Costume status effect). While under either of these effects, you cannot interact with NPCs or objects.

Unlike other costume effects, this will NOT wear when you zone, you will still be a chocobo. Exception to this is Chateau d'Oraguille (possibly having something to do with the rank restriction check).
Adds "Regen" and "Refresh" effects
Restores 1 HP and 1 MP each tick.
Increases movement speed
Other Uses
How to Obtain
Purchased
Bonus in-game item with the purchase of the FINAL FANTASY XI Ultimate Collection Abyssea Edition (released May 16, 2011) or Seekers of Adoulin Ultimate Collection (released March 26th, 2013).
After registration of the Final Fantasy XI Ultimate Collection: Abyssea Edition, this item is obtained from the Festive Moogle at any of the three starting nations.
Separate event code can be used on new or existing account.
Notes
This costume can be used outside the city.
The latent affect WILL work if you are under Level Sync, so a level 99 character who is synced down in a level 30 party or lower will have auto-reraise, refresh, regen, etc.

This includes level 20 & 30 BCNM, level 30 ENM, Eco-Warrior, or other events where you are under level sync.

Only one character on the account may obtain this item per code
Cannot be sent to other characters on the same account.
Cannot be sent to other characters on a different account.
Community content is available under
CC-BY-SA
unless otherwise noted.