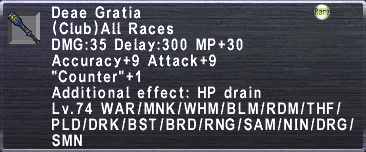 Statistics
Damage Per Second: 7
TP Per Hit: 78
Additional effect: HP drain:
HP Drain Effect seems to be at ~15-20% rate (Tested on Decent Challenge-Easy Prey mobs)
Other Uses
How to Obtain
Dropped By
Historical Background
Deae is the Latin word for "goddess" and gratia is the Latin word for "grace". It is an alteration of the Latin phrase Dei Gratia, which means "by the grace of god". Thus, Deae Gratia means "by the grace of goddess". The original phrase was referring to grace, a concept in Christianity which refers to God's favor (i.e. in salvation/deliverance) regardless of deeds or the nature of the person in grace. In Christianity, it is believed that without grace, humans would be unable to resist their weaknesses or flaws. The actual phrase was tacked onto the introductory title of English/British/UK monarchs to indicate God supported that leader (divine right of kings, the doctrine that the monarch's legitimacy and authority is the will of God and the monarch is answerable only to God, not to any humans, in effect absolutist monarchy).
Community content is available under
CC-BY-SA
unless otherwise noted.