Family: Funguar
Crystal: Dark
Weak to: Light

Notorious Monster
Zone
Level
Drops
Steal
Spawns

Notes

1

A = Aggressive; NA = Non-Aggresive; L = Links; S = Detects by Sight; H = Detects by Sound;
HP = Detects Low HP; M = Detects Magic; Sc = Follows by Scent; T(S) = True-sight; T(H) = True-hearing
JA = Detects job abilities; WS = Detects weaponskills; Z(D) = Asleep in Daytime; Z(N) = Asleep at Nighttime; A(R) = Aggressive to Reive participants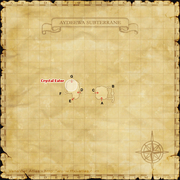 Notes:
Forced pop Funguar type NM similar to Yara Ma Yha Who.
Spawned by trading one crystal every 1 hour and 20 minutes (until the NM pops) to a roaming point on the 5th map of of the Aydeewa Subterrane called "Dampsoil".
It is rumored that the Crystal Eater's abilities change based on the crystal traded.
Community content is available under
CC-BY-SA
unless otherwise noted.