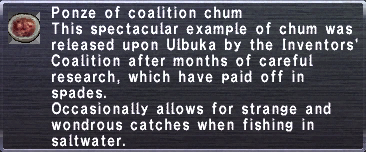 Statistics
Ponze of coalition chum
This spectacular example of chum was
released upon Ulbuka by the Inventors'
Coalition after months of careful
research, which have paid off in
spades.
Occasionally allows for strange and
wondrous catches when fishing in
saltwater.
Stackable: 99
Other Uses
How to Obtain
Mog Garden
Merchants
Community content is available under
CC-BY-SA
unless otherwise noted.