Fire Emblem Warriors: Three Hopes - The Loop
Play Sound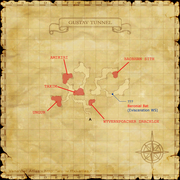 Walkthrough
Notes
MUST BE LEVEL 71+
While Thieves, Corsairs, and Dancers may obtain skill level 230 earlier than level 71, Evisceration must be quested once base skill level 230 (without merits) and job level 71 is reached (requires the ability to wield Dagger of Trials).
You must be on a job that has dagger at the required level to open the quest. Being on another job will not let you open the quest (unless that job can also equip dagger to the required level).
It is not necessary to begin or complete the quest Personal Hygiene in order to begin this quest.
If you have the quest Everyone's Grudging active, you might have to complete it before receiving this one.
The Dagger of Trials must be equipped in the main weapon slot. Using it in the sub-weapon slot will not remove the latent effect from the dagger.
You must perform weapon skills and Skillchains on monsters that award experience points (typically any monster that checks Easy Prey and above).
The latent is removed when the dagger has accumulated 300 or more points. see Talk page for information refuting this point
One point is awarded for performing a weaponskill solo, or for opening a Skillchain of any level.
Two points are awarded for closing a Level 1 Skillchain.
Three points are awarded for closing a Level 2 Skillchain.
Five points are awarded for closing a Level 3 Skillchain.
Only Thieves and Dancers are able to close a level 3 skillchain via Shark Bite; Bards need Mordant Rime in order to close Level 3 skillchains.
To determine if the latent effect has been lifted from the Dagger of Trials, check to see if the bonuses to elemental resistances have changed since it was equipped.
Here are some level 3 Skillchains:
Using Wild Flourish does not award any points, but using a weaponskill afterwards (such as Shadowstitch for a solo-Fragmentation) awards weapon skill points according to the Skillchain completed (in the case of Wild Flourish + Shadowstitch, three points).
Weapon Skills performed while under Level Sync count.
Dagger of Trials must be your Main Hand weapon if utilizing dual-wield.
No weapon skill points are accumulated for performing a weapon skill or Skillchain during a Campaign battle.
PLEASE NOTE: If you have another WSNM quest unfinished, you must finish that quest or cancel it first before Jakoh Wahcondalo will give you the dagger.
Video
See: Videos.
Game Description
Client

Summary

The Chieftainess has come up with a deadly new dagger technique, but needs you to help her devise a way of dodging it. However, you must first complete your training.