Note: Please put information pertaining to walks in the discussion thread.
This is a Chocobo Raising option:
Short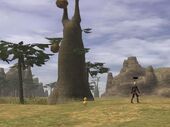 Regular
Long
Items Found by Chocobos
As of the 12/21/06 version update, chocobos may now find items for you during walks. This is indicated by a sparkling object on ground during the cutscene. To retrieve the item choose 'Watch over Chocobo' care option. In the event that your inventory is full when you wish to retrieve this item, you will not be able to get it. However, you can simply close out of the chocobo raising screen, clean your inventory, and choose to "Watch over Chocobo" again, to get the item.
Community content is available under
CC-BY-SA
unless otherwise noted.