New Pokemon Games - The Loop
Play Sound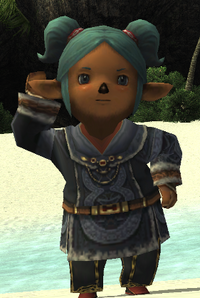 Cherukiki
Notes
Cherukiki is the youngest of the Chebukki siblings; you first meet them in the opening cutscene of Chapter 2 of the Chains of Promathia Missions.
Involved in Missions
Battle Info
Zone
Level
Drops
Steal
Spawns
Notes
Sealion's Den
~66 - 68
1
L, T(S)

A = Aggressive; NA = Non-Aggresive; L = Links; S = Detects by Sight; H = Detects by Sound;
HP = Detects Low HP; M = Detects Magic; Sc = Follows by Scent; T(S) = True-sight; T(H) = True-hearing
JA = Detects job abilities; WS = Detects weaponskills; Z(D) = Asleep in Daytime; Z(N) = Asleep at Nighttime; A(R) = Aggressive to Reive participants
Notes:
Assists Tenzen in battle during The Warrior's Path: The Warrior's Path. They will not take any action until Tenzen is engaged.
All 3 Chebukki siblings cannot be hurt by players, evading or resisting all attacks. However, they can inflict damage on players.