Job: Monk
Family: Dhalmels
Crystal: Earth
Weak to: Lightning, Wind

Notorious Monster
Zone

Level

Drops

Steal

Spawns

Notes

47-48

1

A, L, S

??? HP


A = Aggressive; NA = Non-Aggresive; L = Links; S = Detects by Sight; H = Detects by Sound;
HP = Detects Low HP; M = Detects Magic; Sc = Follows by Scent; T(S) = True-sight; T(H) = True-hearing
JA = Detects job abilities; WS = Detects weaponskills; Z(D) = Asleep in Daytime; Z(N) = Asleep at Nighttime; A(R) = Aggressive to Reive participants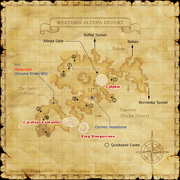 Notes:
Spawns in the I-7 and J-7 squares, confirmed Lottery Spawn from the Desert Dhalmel in both areas. Takes about 20 minutes to spawn after window is up.
Once it spawns it can wander a large area, is not confined to the I-7 square.
Special Attacks: Hundred Fists, during which the NM gains a high Auto Regen effect. The time it takes for these effects to wear is seemingly random, however it is known to take the entire battle.
Historical Background
The Celphie was a 5-legged cow whose limbs below each knee were human forearms and in place of hooves it had human hands. It was said to reside in the desert of Ethiopia.
Community content is available under
CC-BY-SA
unless otherwise noted.