City Architecture: ~

Bastok •

San d'Oria •

Windurst •

Jeuno •

Aht Urhgan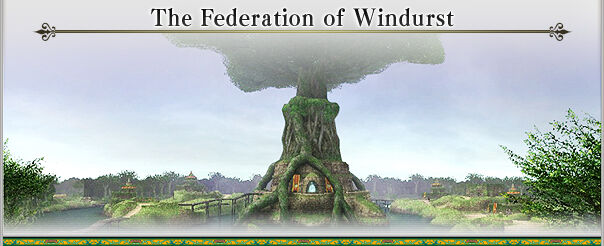 Windurstian Architecture ~ Woods • Walls • Waters • Port • Heavens Tower
Windurst, the City of Magic, is located at the southern end of the Mindartian Continent. Originally built by the Tarutaru, tribes of Mithra also settled here, and brought some sense to the sprawling nature of this city! The distances from anywhere to anywhere are totally disproportionate the the length of the average Tarutaru legs, indicating the reliance on the magic of warp and teleport!
For the most part, Windurst uses wooden structures in deference to the havoc wrought in the Crystal Wars. There are several notable stone structures, although these are mainly remnants from the pre-war era, there has been relatively little new construction in the city since the war. As proof of this, the bridge directly north of the Optistery in Windy Waters is currently constructed of wood. This replaced the original pre-war stone bridge that stood there!
Windurst is governed by the current incarnation of the Star Sybil, and is divided into 5 districts, each catering to different parts of it's society's needs. The districts are:
Trending pages
All items (53)
Community content is available under
CC-BY-SA
unless otherwise noted.