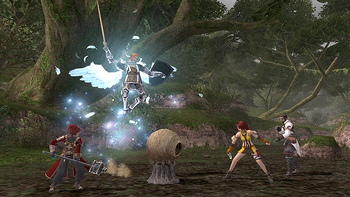 Trust spells call forth Alter Egos of NPCs. Their primary function is to facilitate solo leveling.
Usage
You can call forth up to 3 Alter Egos at a time. In addition to this, you can also call your Adventuring Fellow.
These alter egos support you in battle with the strategies and tactics you've come to expect from them.

Alter egos do not act except in battle, which officially starts after engaging and meleeing once. They will stop acting when you disengage.
If you kill a monster and auto-target another that has aggroed, some alter egos will cast spells on it, but they will not melee until you melee.

Trust magic can only be cast when not already involved in battle.
Trust NPCs do not affect your experience gain.
Trust NPCs' levels and attributes vary based upon the summoning player's level and/or Item Level.

For regular levels, Trust NPCs don't automatically level with the player. They must be dismissed and resummoned to match the player's level. Item Level changes are reflected immediately, which can be problematic with gear swapping.

Trust NPCs are not affected by zone potions obtained in blue caskets.
Trust Magic does not cause magic aggro.
Trust Magic cannot be cast while silenced.
Alter Egos are dismissed if the player is Charmed.
Alter Egos are dismissed if the player spawns a Voidwatch NM.
Initiation quests for the Trust initiative are available, and you learn the first spell as you progress. Additional Alter Egos can be unlocked through completing various missions and quests.

Some NPCs, however, can only be obtained by trading specific items to an NPC offering the initiation quest. New Trust spells will continuously be added in future version updates.

Trust magic is not available in all areas or types of battle content, but may be expanded in the future.
Usage in Parties
Players can now summon alter egos while in a party containing other players.
Alliances cannot be formed when in a party comprised of bother players and alter egos.
Parties cannot contain multiple alter egos of the same NPC.
ALTER EGOS CANNOT BE USED IN LEVEL SYNCED PARTIES!
Only the party leader is able to summon forth alter egos.

This particular restriction is in place for the June 2014 version update in order to prevent a particular glitch.

After adding a new party member Alter Ego's are automatically dismissed and there is a short lockout period before being able to re-summon them.
In addition, alter egos cannot be summoned in the first 120 seconds after changing areas (unless the player is solo) or for 120 seconds after being invited to a party as a temporary measure in order to prevent a separate bug from occurring.
Unlocking Trust
After attaining level 5, accept the tutorial quest by talking to one of the following NPCs:
Trust Permit Quests
Trust Magic
Standard Alter Egos
Limited Availability Alter Egos
See Also