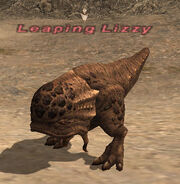 Lottery Spawn Notorious Monsters make up the vast majority of Notorious Monsters (NMs) in Vana'diel. They are present in almost every area of the world and, as such, are usually the first Notorious Monsters that new players encounter. Hunting these NMs is a common activity for players of all levels, either for fun, recognition, or to obtain the various Exclusive or valuable items the monster drops. Though not all Lottery Spawn monsters spur competition, many, such as the infamous Leaping Lizzy and Valkurm Emperor, often have several groups of players competing for the spawn all at once.
In lottery spawn situations, if a hunter knows the respawn time/spawn window of the hunted monster and are able to learn its most recent time of death, they will be placed at an advantage over other hunters who do not. Couple this knowledge with the knowledge of the monster's spawn points and the hunter will know both when and where to check. Learning these facts and applying them serves as the basis of hunting lottery spawn Notorious Monsters.
The following table is an (incomplete) list of lottery spawn Notorious Monsters, their placeholders, and their notable drops.
Trending pages
All items (48)