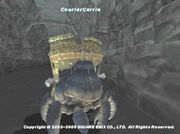 Familiars are special pets that are available exclusively to Beastmasters. They are called to the Beastmaster's side by equipping items, commonly referred to as "jugs," into the ammo slot and using using either Call Beast, which consumes the jug, or Bestial Loyalty, which does not.
While familiars are typically weaker than charmed monsters of the same level, familiars can be called instantly and stay for a set amount time before disappearing — they will never fail to be called or "decharm" and attack the Beastmaster like charmed monsters.
Familiars also allow the use of Snarl, a job ability which transfers enmity from the Beastmaster to the familiar, and Ready, a pet command which replaces Sic and allows the Beastmaster to choose which attack is used. These abilities give the Beastmaster more tactical options and finer control over the flow of battle. In addition to having control over which ability is used, Ready can typically be used more often than Sic, which often makes familiars more powerful than equivalent charmed pets, even if the familiar has lower stats.
However, due to the relatively long recast of Call Beast and the even longer recast of Bestial Loyalty, familiars are much less disposable than charmed pets. Beastmasters that utilize familiars will need to pay close attention to the familiar's health and the time remaining before another pet can be called.
Familiars
See Also
Trivia
In Final Fantasy V, captured monsters would be placed in "Jugs" and when released would make a specific attack before vanishing, similar to a limited form of summoning and Blue Magic.
Video
Trending pages
All items (72)