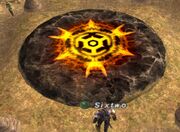 Officially called Orb Battles, Burning Circle Notorious Monster (BCNM) events are a special type of arena battle in where adventurers fight a specific mob or group of mobs. They are great ways to have fun and earn powerful items in the world of Vana'diel. These events are accessed by trading a specific orb to the entrance of a Burning Circle. These orbs can be obtained by trading Beastmen's Seals, Kindred's Seals, or Kindred's Crests to Shami (in Port Jeuno).
Only one person needs an orb to enter the battle.
Alter Egos cannot be summoned.
Food does not wear off upon entering.
In the event of a K.O., all TP accumulated is reset to zero within a BCNM.
Additionally, in the event of a party wipe, the party has 3 minutes to reraise or all members get kicked out.
BCNMs
Trending pages
All items (85)
3
A
B
C
D
E
F
G
H
I
J
K
L
M
O
P
R
S
T
U
W
Community content is available under
CC-BY-SA
unless otherwise noted.