This Auction House category contains automaton-related items.

Automaton Attachments
Automaton Oils
Automaton Heads
Attachment Usage and Storage
When first acquired (whether from drops, treasure caskets, AH, bazaar, or NPC Merchant Yoyoroon (Nashmau, G-6)), they stay in your inventory and are stackable. To transform the inventory version of an attachment to one that can be readily equipped to an Automaton, you must go see Tateeya in the Automaton Workshop in Aht Urhgan Whitegate (I-7). After you talk to her with Puppetmaster as either your main or sub-job, she will tell you to trade her Automaton Attachments (she only takes them one at a time). Doing so will remove the attachment from your inventory and add it to your Automaton's. Once the attachment is in your Automaton's inventory, you can see its actual description and choose whether or not to equip it to your Automaton. The attachments now show you the ability even before trading to Tateeya from update in 2012.
There is no level requirement for using attachments.
You can only have one of each attachment for your Automaton.
Attachments do not take up any inventory space after they have been fitted to your Automaton.
Once fitted, attachments can not be replaced, unfitted, dropped or destroyed. You will never need more than one of each.
After you talk to Tateeya once, you do not need to be on Puppetmaster to trade her more attachments.
If you try to trade her an attachment you've already fitted, she will not take the item and let you know she has already installed it.
Acquiring Attachments
Attachments can be loosely grouped into "sets" of ten attachments, one for each element. The attachments can be obtained in the following ways:
Equipping Attachments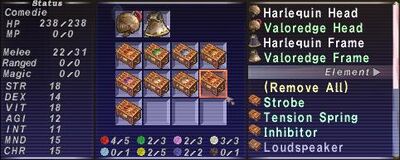 The Automaton Equipment screen is found in the same area as your own character's equipment menu is, however, when you have Puppetmaster as either your main or sub-job, the Equipment option gives you two sub-menus, 'Master' and 'Automaton'. As you can see, the Automaton Equipment screen is much like that of your own character. However, there are only two type-based slots, Head and Frame. The twelve other slots are for Attachments of any kind, as long as the total amount equipped meets the requirements.

Each dot and the # / # beside it is your Automaton's elemental capacity. The first number is the total charge of Attachments of that element, and the second is the total charge that can be equipped at once. Different Automaton Attachments have different charges; lower ones can be equipped in greater numbers, and those with higher charges only a few.
Your Frame and Head determine not only your Automaton's HP/MP, skillcaps, and stats, but also its available elemental capacity.
If you try to Activate your Automaton with invalid elemental stats, (i.e. from changing frames/heads without changing attachments and receive something such as

5/3 ) then the game will tell you it cannot activate it due to incorrect elemental values.
Attachment List
| | | |
| --- | --- | --- |
| Fire Attachments | | Ice Attachments |
---
Wind Attachments

Earth Attachments

Name
Description
Cap.
How to Obtain
Analyzer
Increases chance of mitigating the effects of special attacks previously used by the enemy.
Yoyoroon
Crafted & Dropped from Hilltroll Puppetmaster
Armor Plate
Reduces Physical Damage Taken
Yoyoroon
Armor Plate II
Reduces Physical Damage Taken
Crafted & Dropped from Hilltroll Puppetmaster
Armor Plate III
Reduces Physical Damage Taken
Crafted
Armor Plate IV
Reduces Physical Damage Taken
Barrier Module
Increases chance of blocking with shield


Earth Maneuver: Adds Shield Mastery and shortens Shield Bash recast time

Dropped from Ob
Treasure Caskets(GoV)
Equalizer
Reduces damage received according to damage taken
Pulling the Strings ENM
Chocobo Hot and Cold
Dropped from Ob
Hammermill
Increase the damage of Shield Bash. May also induce Slow effect
Crafted Only!
Schurzen
May erase an Earth Maneuver effect to reduce severe physical damage
Targeting the Captain ??? Box
Shock Absorber
Occasionally uses Stoneskin
Yoyoroon
Shock Absorber II
Occasionally uses Stoneskin
Crafted
---
| | | |
| --- | --- | --- |
| Thunder Attachments | | Water Attachments |
---
| | | |
| --- | --- | --- |
| Light Attachments | | Dark Attachments |
Trending pages
All items (127)
Community content is available under
CC-BY-SA
unless otherwise noted.