What are Aeonic Weapons?
Aeonic Weapons are the "ultimate" in Final Fantasy XI weapons, though individually their Mythic, Empyrean, or Relic counterpart may be stronger. They are "ultimate" because they provide the only way to close "Ultimate Skillchains".
Players may obtain these "ultimate skillchains" through the Martial Mastery quest, but have a limit (max of 15 spendable points) based upon points spent via the merit system. Using one of these Aeonic Weapons grants the associated "ultimate skillchain / weaponskill" without spending any merit points or taking up the limit for the Martial Mastery weaponskills.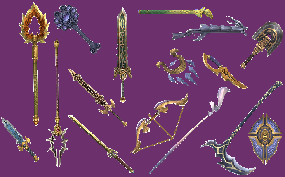 Obtaining
Aeonic Weapons Table
Trending pages
All items (17)
Community content is available under
CC-BY-SA
unless otherwise noted.