What are Aeonic Weapons?
Aeonic Weapons are the "ultimate" in Final Fantasy XI weapons, though individually their Mythic, Empyrean, or Relic counterpart may be stronger. They are "ultimate" because they provide the only way to close "Ultimate Skillchains".
Players may obtain these "ultimate skillchains" through the Martial Mastery quest, but have a limit (max of 15 spendable points) based upon points spent via the merit system. Using one of these Aeonic Weapons grants the associated "ultimate skillchain / weaponskill" without spending any merit points or taking up the limit for the Martial Mastery weaponskills.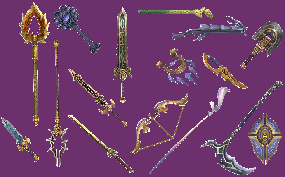 Obtaining
Aeonic Weapons Table
| Weapon | Weapon Skill | Weapon Type | Job | Malformed Key Item Base | Required Fragment | Required Attestation |
| --- | --- | --- | --- | --- | --- | --- |
| Godhands | Shijin Spiral | Hand-to-Hand | MNK / PUP | Malformed knuckles | Mystic Fragment | Attestation of Might |
| Aeneas | Exenterator | Dagger | THF / BRD / DNC | Malformed dagger | Ornate Fragment | Attestation of Celerity |
| Sequence | Requiescat | Sword | RDM / PLD / BLU | Malformed sword | Holy Fragment | Attestation of Glory |
| Lionheart | Resolution | Great Sword | RUN | Malformed great sword | Intricate Fragment | Attestation of Righteousness |
| Tri-edge | Ruinator | Axe | BST | Malformed axe | Runaeic Fragment | Attestation of Bravery |
| Chango | Upheaval | Great Axe | WAR | Malformed great axe | Seraphic Fragment | Attestation of Force |
| Anguta | Entropy | Scythe | DRK | Malformed scythe | Tenebrous Fragment | Attestation of Vigor |
| Trishula | Stardiver | Polearm | DRG | Malformed polearm | Stellar Fragment | Attestation of Fortitude |
| Heishi Shorinken | Blade: Shun | Katana | NIN | Malformed katana | Demoniac Fragment | Attestation of Legerity |
| Dojikiri Yasutsuna | Tachi: Shoha | Great Katana | SAM | Malformed great katana | Divine Fragment | Attestation of Decisiveness |
| Tishtrya | Realmrazer | Club | WHM / GEO | Malformed club | Heavenly Fragment | Attestation of Sacrifice |
| Khatvanga | Shattersoul | Staff | BLM / SMN / SCH | Malformed staff | Celestial Fragment | Attestation of Virtue |
| Fail-Not | Apex Arrow | Bow | RNG | Malformed bow | Snarled Fragment | Attestation of Transcendence |
| Fomalhaut | Last Stand | Gun | RNG / COR | Malformed gun | Ethereal Fragment | Attestation of Accuracy |
| Marsyas | Honor March | Instrument | BRD | Malformed flute | Mysterial Fragment | Attestation of Harmony |
| Srivatsa | n/a | Shield | PLD | Malformed shield | Supernal Fragment | Attestation of Invulnerability |
Trending pages
All items (18)