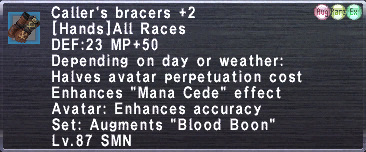 Statistics
Enhances Mana Cede
Grants an additional 100% TP for a total of 200% TP in exchange for 100 MP.
Halves Avatar Perpetuation Cost
Unlike the hidden effect of Carbuncle Mitts, this is applied after 'Reduces avatar perpetuation cost' gear instead of before; eg: With -11 in other -perpetuation gear, the remaining 3/tic perpetuation for a celestial avatar will be halved then rounded down for a result of 1/tic perpetuation.
Other Uses
How to Obtain
Upgrade from Caller's Bracers +1 via:
Community content is available under
CC-BY-SA
unless otherwise noted.