Magic-Based Weapon Skills
Where

WSC: Secondary attribute like STR 30% (30% of your STR) (See individual Weapon Skill)
fTP: TP Multiplier (See individual Weapon Skill)
iLvl: the item level of the weapon
Resist : Possibilities are

No Resist(1/1)
Half Resist(1/2)
Quarter Resist(1/4)
Resisted(1/8 and 1/16)
Void(0)

Weather

if WS is used in single weather effect = 1.1 (+0.1)
if WS is used in double weather effect = 1.25 (+0.25)
Conversely, if WS is being used on the day where WS element is weak to, the multiplier is reduced by 0.1 and 0.25

MDIF : ratio of your Magic ATK to target's Magic DEF (Matk/Mdef)
Magic Damage Adjustment : (1 + or - (Shells, Shining Ruby, sum of magic damage cut equipment))

This parameter have denominator of 256 (1/256), for example
Shell IV is -56/256, Shining Ruby is -10/256, Bubble Curtain is -128/256
The smallest Magic Damage Adjustment number given by equipment capped the multiplier to 128/256 (0.5)
Certain magic damage adjustments of particular monster family have been found:
Ebony Puddings in Mount Zhayolm appear to take 25% bonus magic damage (+64/256).
Eo'ghrahs in Grand Palace of Hu'Xzoi appear to take 87.5% magic damage (-32/256).
Evil Weapon have 12.5%(-32/256) magic damage cut
To some particular HNM, magic damage cut can occur occasionally when using the same element against that of HNM
Physical-Based Weapon Skills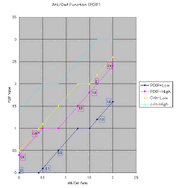 Where
    Level    @
    Lv90... 0.85
    Lv75... 0.83
    Lv74... 0.83
    Lv73... 0.84
    Lv72... 0.84
    Lv67... 0.86 or 0.87 (perhaps 0.87)
    Lv60... 0.90 or 0.91 (perhaps 0.90)
    Lv40... 0.94 
    Lv37... 0.94 – 0.99
    Lv31... 0.94 - 0.99

For example, suppose you are level 67 and have 100 STR and 100 MND and you use Swift Blade (STR 30%, MND 30%).
WSC = integer[(100 x 0.3) + (100 x 0.3)] x @ = integer(60) x @ = 60 x .86
(@ is 0.86 - 0.87 at LV67)
For Sneak Attack and Trick Attack with Thief main, the calculation is WD = ( D + fSTR + WSC) * fTP + DEX + AGI
Only weapon skills that say "Chance of critical varies with TP" can have a critical hit within the WS without forced critical (i.e. Sneak Attack or Mighty Strikes).

Base critical hit chance varies between weapon skills.

WS gorgets from In the Name of Science add 0.097 to fTP for the first hit.

They also increase WS accuracy, which applies to all hits.

Hybrid weapon skills deal both physical and elemental damage and can be considered a 2+ hit weapon skill. The base damage of the elemental hit is based on the amount of physical damage done and TP.
See also