Zone
Level
Drops
Steal
Spawns
Notes
Western Altepa Desert
56 - 59
1
A, H
~6,000 HP

Nyzul Isle

(Floors 1 - 19)

1
A, H
??? HP


A = Aggressive; NA = Non-Aggresive; L = Links; S = Detects by Sight; H = Detects by Sound;
HP = Detects Low HP; M = Detects Magic; Sc = Follows by Scent; T(S) = True-sight; T(H) = True-hearing
JA = Detects job abilities; WS = Detects weaponskills; Z(D) = Asleep in Daytime; Z(N) = Asleep at Nighttime; A(R) = Aggressive to Reive participants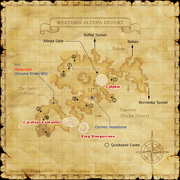 Notes:
Lottery Spawn from Cactuar in the area of (F-11) to (G-11).
Window is open 1 hour after Time of Death and can take between 1 - 7+ hours to re-spawn.
PH ID: 157, though due to the wide pop range of the PH, may still need to run back and forth between the 2 squares to find it every 5 minutes
Re-spawn on placeholder is 5 minutes.
Uses normal Cactuar TP moves such as 1000 Needles.
Killaby by a party of three Level 60 characters. See also: Testimonials
Nyzul Isle: The Armoury Crate it leaves behind contains a ??? Footwear, which may rarely appraise into a Kung Fu Shoes.
Staff Trial 781: Requires Cactuar Cantautor to be defeated 4 times while Slaine(Attack +3) is equipped.
Historical Background
Cantautor is the Spanish word for a singer-songwriter, someone who writes the songs they sing.
Community content is available under
CC-BY-SA
unless otherwise noted.