Statistics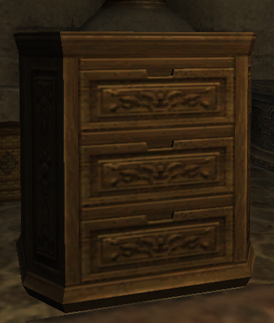 Cabinet
Furnishing:
A sturdy storage cabinet for keeping
valuables and prized possessions.
<

STG: 7>
Other Uses
Synthesis Recipes
Woodworking (81/92)
Yield: Cabinet x 1
Earth Crystal
Used in Recipes
Desynthesis Recipe
None
Obtained From Desynthesis
How to Obtain
Can be obtained as a random reward from the Gobbie Mystery Box Special Dial and similar sources.
Merchants
Community content is available under
CC-BY-SA
unless otherwise noted.