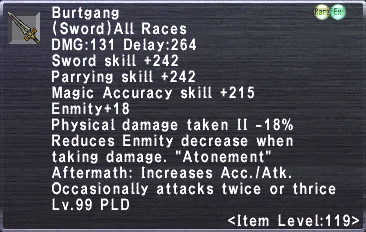 Statistics
Damage Per Second: 29.77
TP Per Hit: 70
Other Uses
How to Obtain
Oboro Mythic Reforging
Must possess

Scintillating Rhapsody
Historical Background
Blutgang (also Burtgang or Blodgang) was the sword of Háma (Old English: Hāma) (Also Heimir (Old Norse), or Heime (German)), a legendary Germanic hero who often appears together with his friend Wudga. He appears in the Anglo-Saxon poems Beowulf and Widsith, in the Scandinavian Þiðrekssaga and in German epics such as Alpharts Tod.[1]
References
Community content is available under
CC-BY-SA
unless otherwise noted.