Start NPC
Ryoma - Norg (H-8)
Requirements
Ninja 72+
Katana Skill 250+ (Merits not included, only base skill)
No other weaponskill quest active
Repeatable
No
Reward
Grants the weaponskill Blade: Ku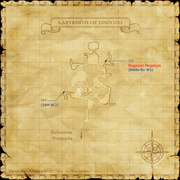 Walkthrough
You cannot unlock this quest if you already have another Weapon Skill quest active.
How to remove the latent effect:
Game Description
Client

Summary
Translation
The original Japanese for this quest title is: 武技相伝, while the English (Bugi Soden) is a transliteration as opposed to translation. A loose translation of the kanji into English would be "Bequeathing an aspect of a martial arts technique".
武技 (bugi) translates cleanly as "martial arts", while 伝 in this case would mean "to pass on/bequeath" (reference: 技を伝える, passing on one's skill). 相 is slightly more troublesome in this usage and would likely refer to an aspect (of the martial arts technique) being passed on.
Community content is available under
CC-BY-SA
unless otherwise noted.