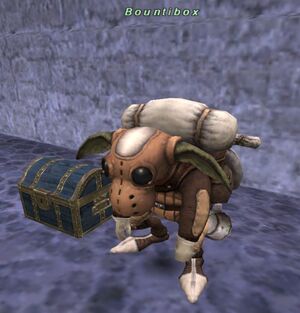 Port Bastok at I-12
Gobbie Mystery Box Vendor

This goblin will trade built up daily tally points for items of varying usefulness. The longer you wait between collections, the more points that will build up. Maximum points = 437+*. Point build up at a rate of 10 per day plus 10 points by trading in rare/ex items.

Your daily tally's increased..
"someamawhats" = 3-5 points.
"ginormagantic amount" = 10 points.

| | |
| --- | --- |
| ==Items Accepted== | ==Items Available== |