Roblox: DeepWoken - The Loop
Play Sound
This guide is just my research and playing around testing
A guide made by Demonicrefusal (Alexander)
So if you are like me you're a BLU that just loves to kick back and campaign a bit to get some extra exp without all the hassle of soloing imps. If so you probably found yourself dying a lot because your shadows get eaten up fast. Well finally i set /NIN aside and didn't feel like level SCH up to I decided /RDM would be something to try. Because I'm lacking the PM missions I don't have the spells and gear I need but here's a basic outlook of the setup and tactics I've looked at and played with.
How Blu/Rdm works
The goal is to keep your enhancing magic up to take less damage while managing your hate, DD, HP and MP. I use for soloing/tanking campaign mobs/bosses.
STR - Helps keep hate with str mod spells.
DEX - Helps keep hate with dex mod spells.
VIT - Helps with taking damage.
MND - Helps with Magic fruit potency which helps with keeping hate.

RDM spells and purpose

Protect II
Shell II
Blaze Spikes (Adds a bit more damage.)
Aquaviel (Help not getting interrupted.)
Blink (Shadows to prep for those first hits)
Bar- (To take less magic damage from mobs spamming a spell type.)
En- (To do a bit more damage for more Exp of course!)
Phalanx (Reduce damage taken & Making Stoneskin last longer)
Regen (Keep your HP ticking as you take damage.)
Stoneskin (Reduces damage taken.)

BLU spell setup and purpose

My Setup

Head Butt (Stun)
Dimensional Death (Paired for "Accuracy Bonus")
Frenetic Rip (DD & paired for "Accuracy Bonus & Grabbing hate)
Hysteric Barrage (DD & Grabbing hate)
Cannonball (DD & Pulling mobs & Light SC)
MP Drainkiss (Managing MP)
Magic Hammer (Managing MP & Bursting Light)
Digest (Managing HP)
Regurgitation (Emergency during multiple aggro)
Magic Fruit (Managing HP & Grabbing hate)
Cocoon (Defense +50% & Making Stoneskin last longer)
Metallic Body (Stoneskin) Can use Stoneskin after to keep a Stoneskin chain up"
Refueling "Haste +10%"
Voracious Trunk "Auto-Refresh"
Frightful Roar "Auto-Refresh"
Cold Wave "Auto-Refresh"
Self-Destruct "Auto-Refresh"
Optimal Setup
Head Butt (Stun)
Frenetic Rip (DD & paired for "Accuracy Bonus & Grabbing hate)
Hysteric Barrage (DD & Grabbing hate)
Disseverment (DD & paired for "Accuracy Bonus & Grabbing hate)
Actnic Burst (Auto-Refresh & Blinds Enemy)
Plasma Charge (Auto-Refresh & Shock Spikes)
Refueling (Haste +10%)
Pinecone Bomb (Pulling)
MP Drainkiss (Managing MP)
Magic Hammer (Managing MP & Bursting Light)
Digest (Managing HP)
Cocoon (Defense +50% & Making Stoneskin last longer)
Metallic Body (Stoneskin) Can use Stoneskin after to keep a Stoneskin chain up
Magic Fruit (Managing HP & Grabbing hate)
Zephyr Mantle (Shadows & Pairs "Conserve MP")
Chaotic Eye (Silence & Pairs "Conserve MP")

Gear
Main




Shield



Ammo



Head


Body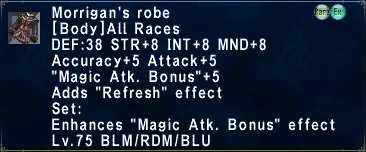 Hands





Legs




Feet








Belt




Back





File:Smilodon Mantle Plus 1.jpg

Neck






Earring




__________________________________________________________________________________________________________