Statistics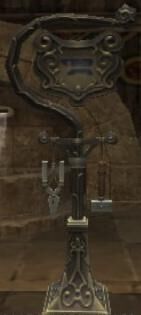 Furnishing:
A sign used by blacksmiths to indicate their guild's services to the public.
<

STG: 1>
Other Uses
Grants Moglification: Smithing if you already possess Moghancement: Smithing Skill.
Synthesis Recipes
None
Used in Recipes
Desynthesis Recipes
None
Obtained from Desynthesis
How to Obtain
Cannot be auctioned, traded, bazaared, or delivered.


Cannot be obtained as a random reward from the Gobbie Mystery Box Special Dial and similar sources.
Guild Points