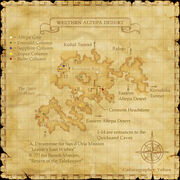 Walkthrough
Peddlestox only appears on Earthsday at 0:00 at (L-7) in Western Altepa Desert.
Now appears on Earthsday all day.
She will ask you to bring her four items. They are all Rare/Ex. Note: This quest will not appear in your quest log.
When you bring the items back to Peddlestox, she will tell you the location of your Treasure Box. The location is different every time.
The ??? will appear only once: that game day and from 4:00 to 20:00.
??? Now appears through out Earthsday

This is incorrect, I was unable to find the ??? so i zoned and logged out. Came back the next rl day on earthsday and talked to peddlestox again. Marker location didn't change and I was able to retrieve treasure then. Make sure your map is zoomed all the way in when trying to position yourself over the ???. Range is extremely short to target it. Jado818 23:22, February 8, 2010 (UTC)

Use a Pickaxe on the ??? and you will randomly receive a treasure item, but not necessarily the item she said you could get. Possible treasure includes 3-5 of the following and 4,000 to 10,000 gil:
Community content is available under
CC-BY-SA
unless otherwise noted.