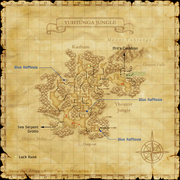 Walkthrough
Peddlestox only appears during Windsday, behind a rock.
When you bring the items back to Peddlestox, she will mark the location of your treasure on the map.
The ??? will only appear when you are within a foot of it. Excavate the ??? with a pickaxe to obtain your treasure.
Possible treasure includes 3-5 of the following and 4000 to 5000 gil:
Notes
This quest does not appear in the quest log.
The ??? can be found at any time after trading the four items to Peddlestox.
Peddlestox warps away at 0:00 A.M. on Iceday. However, she can't leave her spot as long as someone is involved in conversation with her.
Mermaid's Ring is not 100%!
Community content is available under
CC-BY-SA
unless otherwise noted.