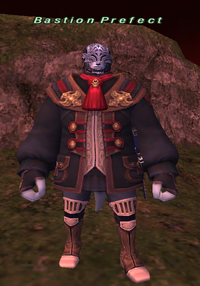 Bastion Prefect
Bastion Prefects can be found near Conflux #00 in Scars of Abyssea areas. They are responsible for issuing Pennant status for participation in Bastion, dealing with all manners of Resistance Credits transactions, and giving information on the status of the Resistance and battles.
Notes
Speak to a Bastion Prefect and select the dialog option 'Learn about the current situation'. The bottom 3 options will include the 3 "Verges" (Directions) that the Monsters approach from. Selecting these will give a report that includes a percent chance of attack. The Prefect will announce a new Bastion battle when any of the Verges reach 100%.
Items
All Areas:
Temporary Items
All Areas:
Equipment
See Also
Community content is available under
CC-BY-SA
unless otherwise noted.