No Man's Sky Update - The Loop
Play Sound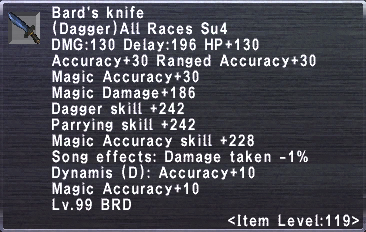 Statistics
Damage Per Second: 39.8
TP Per Hit: 53
Song Effects: Damage taken -1%
Effect is additive per song effect. 4 songs = -4% damage taken.
Augments
Oboro will augment this item for players who have entered any Dynamis - Divergence zone. Reinforcement Points are accumulated either in exchange for Heroism Crystals / Aggregates, or by accumulating them by defeating foes of any wave in any Dynamis - Divergence zone. Max Rank augment for this item (15) shown:
Other Uses
Synthesis Recipes
Smithing 111~113

, Bonecraft (

), Goldsmithing (

)
Yield: Bard's Knife x 1
HQ 1: Bihu Knife x 1
HQ 2: Barfawc x 1
Used in Recipes
Desynthesis Recipes
None
Obtained from Desynthesis
How to Obtain
Auction House Category: Weapons > Daggers


Cannot be obtained as a random reward from the Gobbie Mystery Box Special Dial and similar sources.
Only obtainable through synthesis.