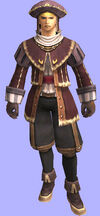 Worn by Bards, the set has an identical model to their Artifact Armor, the Choral Attire Set, but with a texture upgrade. The Relic set is a light purple, instead of the patchwork brown of the Artifact set, and has a gold trim on the headpiece and along the arms. A fur trim on the jacket completes the look.
The set naturally has enhancements to those attributes and skills most useful to a Bard, namely Charisma, and enhancements to Singing, Wind Instrument, and String Instrument skills, along with a negative Enmity bonus. The set also has bonuses to aspects most often associated with that of a Damage Dealing class, namely Attack, Parrying and Evasion. Of particular note is the addition of Military Parade and Courtly Measure, which provide significant attribute boosts.
This is the stage 1 +2 version of the Relic armor set.
Number of Pieces: 5
Cost to store: Not storable with armor depository NPC.
Storage Slip: Cannot be stored on a Moogle Slip
Set Summary
Community content is available under
CC-BY-SA
unless otherwise noted.