Statistics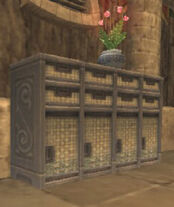 Bahut
Furnishing:
A spacious woodwork cabinet with
accomodating sliding doors, crafted in
the traditional Windurstian style.
<

STG: 8>
Other Uses
Synthesis Recipes
Used in Recipes
Desynthesis Recipes
None
Obtained from Desynthesis
How to Obtain
Auction House Category: Furnishings


Can be obtained as a random reward from the Gobbie Mystery Box Special Dial and similar sources.

Only obtainable through synthesis.