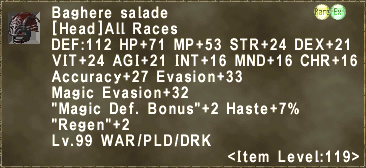 Statistics
Other Uses
How to Obtain
Cannot be auctioned, traded, or bazaared, but can be delivered to a character on the same account.


Can be obtained as a random reward from the Gobbie Mystery Box Special Dial and similar sources.
Possible reward from a Venus Orb battlefield.
Notes
Added
Added in the

July 2014

version update.
See Also
None - All pages Baghere Salade appears on are already linked to.
Nomenclature
Baghere: An idol of the ancient Tibetan religion Baryesu, who's followers dress in coral-red woolen garments. (Royal College of Physicians of London, 1798)
Salade: Old French, from the Latin caelata - a war helmet. Synonymous with sallet, celata, and schaller. (Wikipedia)