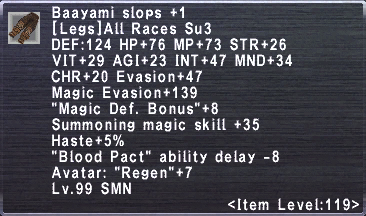 Statistics
View the entire

Baayami Robe Set

.
Other Uses
Synthesis Recipes
Clothcraft 115~119

, Leathercraft (

)
Yield: Baayami Slops x 1
HQ 1: Baayami Slops +1 x 1
Used in Recipes
Desynthesis Recipes
None
Obtained from Desynthesis
How to Obtain
Auction House Category: Armor > Legs


Cannot be obtained as a random reward from the Gobbie Mystery Box Special Dial and similar sources.
Only obtainable through synthesis.