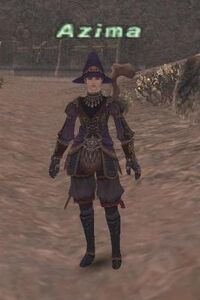 Azima
Race:
Job:
Affiliation:
Occupation:
Bounty hunter
Dialogue
"<Sigh>... The road to the Konschtat Highlands has been barricaded..." - by Konschtat Highlands gate
"<Sigh>... Is there no way into the Palborough Mines?" - by Palborough Mines gate
"Whahahaha! I do not believe permission was granted you to address the almighty Azima!" - when allied
"<Giggle>..." - battle cry
Notes
Maruna-Kurina's Notes
They call Azima the "Hermitess of the Highlands," and she is almost universally-wersally regarded as the most skilled and feared bounty hunter in Vana'diel. It's not uncommon to glimpse her from time to time in North Gustaberg. As of late they say she is utterly obsessed with all things alchemy. Those in the know will be the first to tell you, Azima is one best keptaru in good graces.
How to Influence
Speak to her with an Alchemy skill or 60 or higher. You will be given the following dialogue when you increase influence:
"Oh, you appear quite versed in the alchemic arts. I just started, myself. Magic is fun and all, but you are always left nothing but the afterglow. Alchemy is like magic that gives you a gift when you are finished!"
When Allied
Involved in Missions