Job:
Family: Crawlers
Crystal: Earth
Weak to: Dark

Notorious Monster
Title Obtained: Bogeydowner
Zone

Level

Drops

Steal

Spawns

Notes

68

1

A, L, H, Sc
??? HP


A = Aggressive; NA = Non-Aggresive; L = Links; S = Detects by Sight; H = Detects by Sound;
HP = Detects Low HP; M = Detects Magic; Sc = Follows by Scent; T(S) = True-sight; T(H) = True-hearing
JA = Detects job abilities; WS = Detects weaponskills; Z(D) = Asleep in Daytime; Z(N) = Asleep at Nighttime; A(R) = Aggressive to Reive participants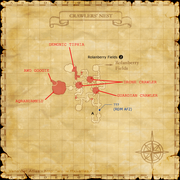 Notes:
Spawned by trading a Rolanberry 864 to the basket at E-7 on the second map. Does not spawn 100% of the time; can display the message "Nothing Happened", which still uses up a Rolanberry 864.
Killable by: 6 characters level 60.
Note to cooks: If you are crafting Cursed Soup, this is an easy way to farm the Royal Jelly, provided you have the job able to take down Awd Goggie.
Spawn rate: (

73.1%

)
(see testimonials)
Historical Background
In English folklore, Awd Goggie was a faerie which haunted forests and orchards in the east riding of Yorkshire. It would kidnap children who went into orchards or the woods alone.
Community content is available under
CC-BY-SA
unless otherwise noted.