Statistics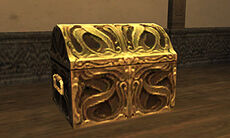 <
STG: 5>
Furniture Quest
This item allows players to receive one random item every week.
Please note that even if you place more than one coffer, you will still receive only one item per week.
Place in your Mog House and speak to your Moogle after the Conquest Tally to receive one random item, seemingly chosen from the same list as the Special Dial on the Goblin Mystery Box.
Note that there is a seven-day cooldown on use of the Coffer, hence it will not necessarily provide a new item directly after the Conquest Tally.
Other Uses
How to Obtain
Screenshot Campaigns
Notes
Added
See Also
Derivations
Aurum: Latin for gold.
Coffer: Middle English: from Old French coffre (chest), via Latin from Greek kophinos (basket). A strongbox or small chest for holding valuables.