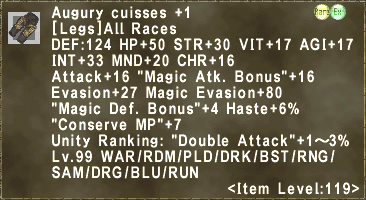 Statistics
Augments
This may be augmented using Lustreless Scales at any Unity Concord NPC after paying the 30,000 Accolades fee. Max rank augments shown
Other Uses
How to Obtain
Notes
Added
See Also
Nomenclature
Augury: Late Middle English meaning 'divination': from Old French augurie or Latin augurium 'interpretation of omens'.
Cuisses: Middle English meaning 'a piece of armour for the thigh': from Old French cuisseaux, plural of cuissel, from late Latin coxale, from coxa 'hip'.
Community content is available under
CC-BY-SA
unless otherwise noted.