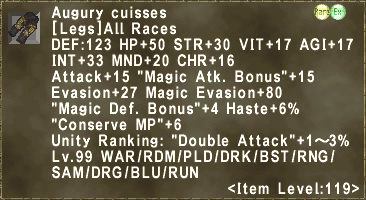 Statistics
Other Uses
Unity Concord Upgrade:
Augury Cuisses
upgrades to

Augury Cuisses +1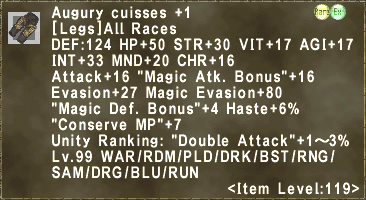 with 50x

Arthro's Shell

at a
Unity Concord NPC
for 10,000
Unity Accolades
.
How to Obtain
Notes
Added
See Also
None - All pages Augury Cuisses appears on are already linked to.
Nomenclature
Augury: Late Middle English meaning 'divination': from Old French augurie or Latin augurium 'interpretation of omens'.
Cuisses: Middle English meaning 'a piece of armour for the thigh': from Old French cuisseaux, plural of cuissel, from late Latin coxale, from coxa 'hip'.
Community content is available under
CC-BY-SA
unless otherwise noted.