Walkthrough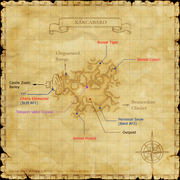 The Frigicite are found in caves at I-6, J-6, and G-10. Each piece of Frigicite is guarded by a NM that has True Sight and True Hearing. Defeat each NM, and quickly run in and touch the ??? to receive the rewards (key items): You do not need to be in the party killing them to receive the "Something in the ice shifted" text and attain your reward (Just close by to check the ???).
Boreal Tiger. The reward is a Round Frigicite.
Boreal Coeurl. The reward is a Square Frigicite.
Boreal Hound. The reward is a Triangular Frigicite.
These NMs have fairly quick respawn rates (around 5 minutes, as in normal zone mobs). Touch the ??? quickly.
If the NMs aggro you, they'll follow you for several seconds, then they'll immediately start casting a spell. Take this time to run out of their range, because if you do, they'll lose hate and they'll return to their spawn point.
Once you have retrieved the three pieces of Frigicite, simply return to Maat to complete the quest.
Can be soloed by 71+ Summoner with decent gear. Can be soloed by a 75BST, 75NIN, 75PLD, 75DRG, 75RDM, 75WHM/NIN, 75WHM/SAM with decent melee gear, or BRD75/DNC in BRD AF using auto attack + curing waltz. Also soloed by a 75 SAM/NIN.
Solod by 75THF. Boreal Coeurl can be hard to bolt drain.
Soloed by 75WAR/DNC with some difficulties.
64RDM/NIN medium/low difficulty with DD back up from questers;52DRK;54BLM; 49WHM Viruna,Paralyna healing as needed.
Taken with little work by Drg69/Sam34, Blm54/Whm27, War60/Dnc30, Did Hound with lv 44npc and a lv38 npc, last 2 with lv39 NPC only. Wasn't long fights really.
Please note all three of these NMs are needed for The Miraculous Dale; however this will not retroactively count for those on this quest.
Kyokusa's Video Guide
A visual guide to prepare for whats in store for you.
Getting help vr.
Part 1 Round Frigicite
Part 2 Square Frigicite and Triangular Frigicite
Click on the video to the main youtube page for better quality.
Helping someone vr.
Game Description
Client

Maat (Grand Duke Palace, Ru'Lude Gardens)

Summary

Collect three stones of frigicite from fiend-infested caverns in the north. Bring them to Maat to further expand your innate limits.