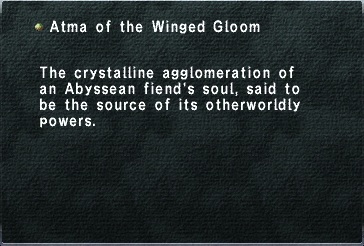 Atma of the Winged Gloom
Description:
The crystalline agglomeration of
an Abyssean fiend's soul, said to
be the source of its otherworldly
powers.
Obtained:
Defeating
Azdaja
in
Abyssea - Grauberg
after triggering a

weakness with elemental Weapon Skills. This Key Item will drop to the entire Party and/or Alliance.
Notes:
Enhances resistance against Death: Major (+value%

)
Damage taken-: Major (Estimated at ~30%

) (HP above 25%)

"Slip damage": Superior (30 HP/tic
Damage Over Time
) (HP above 25%)
Community content is available under
CC-BY-SA
unless otherwise noted.