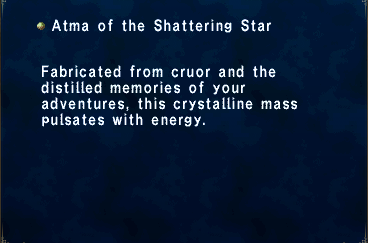 Atma of the Shattering Star
Description:
Fabricated from cruor and the
distilled memories of your
adventures, this crystalline mass
pulsates with energy.
Obtained:
Completion of
Look Out Below
and Dominion Ops #4, #5, #6, #7, and #8. These are all started in Maat's camp at J-5 (Conflux 6).
Community content is available under
CC-BY-SA
unless otherwise noted.