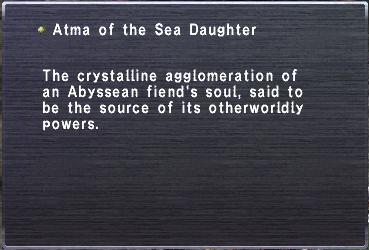 Atma of the Sea Daughter
Description:
The crystalline agglomeration of
an Abyssean fiend's soul, said to
be the source of its otherworldly
powers.
Obtained:
Defeating
Amphitrite
in
Abyssea - Grauberg
after triggering a red
weakness with elemental Weapon Skills. This
Key Item
will drop to the entire
Party
and/or
Alliance
.