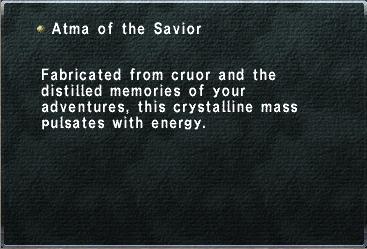 Atma of the Savior
Obtained:
100% completion of all 9 zones
Atma Fabricant in Hero's zones for 2000 cruor
Notes:
"Enhances all status effects"+:Superior (+30 all stats)

"Resistance to all status ailments"+:Superior

Occasionally absorbs damage taken. (10% absorb rate)
To unlock: obtain ALL 99 atmas(only on NM), ALL 65 abyssites and complete ALL 87 quests in abyssea.
You can verify your progress at the
Goal Tracker
in each zone.