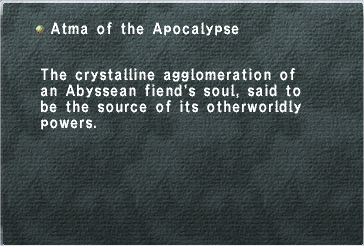 Atma of the Apocalypse
Description:
The crystalline agglomeration of
an Abyssean fiend's soul, said to
be the source of its otherworldly
powers.
Obtained:
Defeating
Shinryu
after red stagger

has been triggered.
The Atma is awarded upon return to the lobby of Empyreal Paradox.
Notes:
Triple Attack+: Superior (+15%)
"Quick Magic": (+10%

)

Quick Magic occasionally allows spells to cast instantaneously (similar to Spontaneity).

When Quick Magic Activates, it also creates no recast time, allowing the spell to be cast again immediately.
Auto-Reraise grants the effect of Reraise III automatically upon the death of the user.

Although all Atma effects will ordinarily transfer to pets, Auto-Reraise does not.
The Auto-Reraise effect is lost if you disconnect while dead inside Abyssea.
Community content is available under
CC-BY-SA
unless otherwise noted.