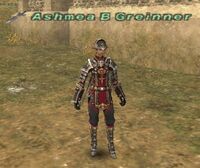 Ashmea B Greinner
Notes
Appears during Campaign Battles in as the leader of the Scarlet Boar Esquires.
Battle Cry: "Father! Lend me your strength!"
Talk: How dare a baseborn peasant raise his/her voice to a noble knight!? Begone, before I strike you down myself!
Uses a unique weapon skill called Prominence. Also uses Sword skills such as Circle Blade and Red Lotus Blade.
Uses Invincible.
Casts Firaga III, Fire IV, Blaze Spikes, Burn, Protect IV, Shell IV and Cure IV.
Has high rate of attack speed. Possibly close to 80-95% haste. This may be due to Dual Wield.
Is able to Double Attack.
May be classified as Paladin / Black Mage with dual wield, due to the fact that she uses PLD's Invincible, Sword weapon skills, and Cure IV, as well as BLM-exclusive Black Magic. She dual wields, but that is the only aspect of NIN that she possesses.
Ashmea and her army can be dispatched to Castle Zvahl Baileys (S) and Castle Zvahl Keep (S) providing the northlands are under Allied control.
Involved in Quests
Community content is available under
CC-BY-SA
unless otherwise noted.