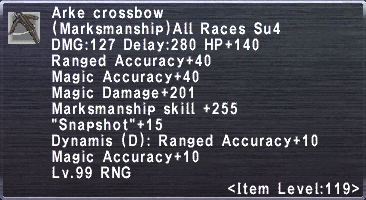 Statistics
Damage Per Second: 27.21
TP Per Hit: 74
Augments
Oboro will augment this item for players who have entered any Dynamis - Divergence zone. Reinforcement Points are accumulated either in exchange for Heroism Crystals / Aggregates, or by accumulating them by defeating foes of any wave in any Dynamis - Divergence zone. Max Rank augment for this item (20) shown:
Type A: Chance of double damage +40% "Store TP" +40 DMG: +??
Type B: Chance of follow-up attack +40% "Subtle Blow II" +40 DMG: +??
Type C: Additional ammo damage +??% Additional Ammo Accuracy +?? DMG: +??
Other Uses
Synthesis Recipes
Woodworking
111~113

,
Smithing (

)
,
Bonecraft (

)
Yield: Scout's Crossbow x 1
HQ 1: Arke Crossbow x 1
HQ 2: Sharanga x 1
Used in Recipes
Desynthesis Recipes
None
Obtained from Desynthesis
How to Obtain
Only obtainable through synthesis.
Community content is available under
CC-BY-SA
unless otherwise noted.